Congrats!
You're on your way to becoming a saint.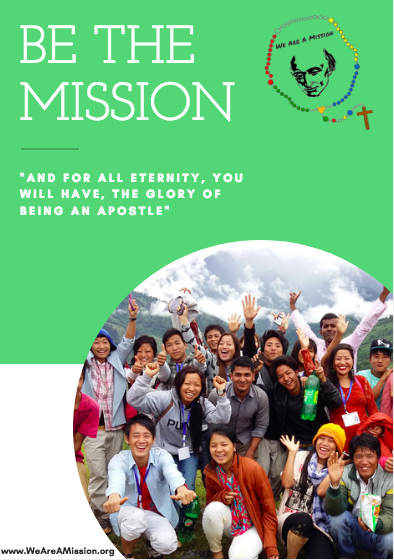 Be The Mission is a free, online missionary formation course for the youth, born by the Spirit-inspired idea of Pallottine Fr. General Jacob Nampudakam SAC.

Its spirituality is that of our most holy Founder, St. Vincent Pallotti, a zealous apostle for the youth, who ceaselessly guards his young ones from on high. He teaches us that regardless of our personal vocation- whether we are called to Religious, Lay, Married, or Consecrated Life- we all share the same mission: to be holy. Simply put, the will of God is our sanctification.
Holiness is happiness, holiness is purity, holiness is finding God every day in an extraordinary way, by doing very ordinary things. So, too, is this what Pope Francis is teaching us: step off the threshold, come down from the balcony, and meet our brothers and sisters in every periphery of life. We are called to live the Gospel radically as Jesus did, by using the gifts that God has given us to spread love to our brothers and sisters; especially those who need us most.

Be The Mission guides us in our ambitious, noble mission of sanctification, by using reflections from the Bible, St. Vincent Pallotti, and the Church's great saints. It presses onward by modeling how to go forth and live these virtues in real-time, by using the exhortations of our Holy Fathers.
Fr. General Jacob's Message
Learn More About Our Mission & Works
We Are A Mission is the personal initiative of Fr. Jacob, Spiritually inspired by the words of Pope Francis.
"My mission of being in the heart of the people is not just a part of my life or a badge I can take off; it is not an "extra" or just another moment in life. Instead, it is something I cannot uproot from my being without destroying my very self. I am a mission on this earth; that is the reason why I am here in this world. We have to regard ourselves as sealed, even branded, by this mission of bringing light, blessing, enlivening, raising up, healing and freeing. All around us we begin to see nurses with soul, teachers with soul, politicians with soul, people who have chosen deep down to be with others and for others. But once we separate our work from our private lives, everything turns grey and we will always be seeking recognition or asserting our needs. We stop being a people."
(Evangelii Gaudium n.273)
Every life is precious. Every mission in service of God and His people is noble. Every great Saint felt the call of urgency to go forth and save souls. We have no time to wait. Let us begin!
Missionary & Apostolic E-Magazine